FTR was in Bratislava from 7th to 10th February 2011 as a part of TIK project, more precisely TIK Radidays. This is first in the series of workshops and productions of TIK Radiodays that was held in Progressbar, newly opening hack-lab in the middle of Bratislava. Participants came from Poland, Hungary, Austria, Czech Republic, Slovakia and Croatia.
Ushi Reiter from servus.at gave micro transmitter soldering workshop. This transmitters were latter on used as tools to send signal to various receivers and as sound making instruments.
FTR had two installations, one in nearby park, where it dint work satisfactory, and as it was to cold to troubleshoot, it was taken back to Progressbar where it was put to work. Again, "open microphone" was practised and people interviewed, as well as sound experiments and DJing.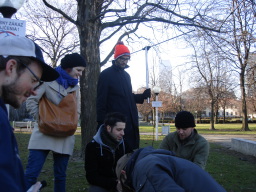 Sound installation making sounds out of electricity from potatoes